MMC HAT
Add an additional MMC (SD) to your Raspberry Pi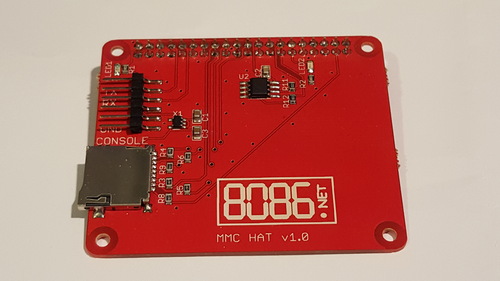 The MMC HAT (Hardware Attached on Top) adds a second microSD socket to your Raspberry Pi using the second (or third) SDIO interface.
It can be used with Raspberry Pi A+, B+, Zero (with headers), Zero W* (with headers), 2B, 3B*, 3B+* and 4B (* When used on a Raspberry Pi Zero W, 3B or 3B+ the on-board WiFi is disabled as it is on the SDIO interface used by the MMC HAT).
The Raspberry Pi 4 has three SD controllers so you can use onboard SD, WiFi and the MMC HAT (SD) at the same time on the Pi4!
The MMC HAT has many uses including:
Micro SD card reader. Write new images, repair or modify existing Raspberry Pi installations with ease.
Additional storage, mount as your home directory or for general storage or backups.
RAID1 on the root (/) partition for added reliability.
Connector for Controller Serial Console using our USB Serial Adaptor.
When using a Pi4 (or any other Pi where you might want to transfer the SD and MMC HAT to a Pi4 at a later date) please add the following three lines to the TOP of the config.txt file in the boot directory.

[pi4]
dtparam=mmchat_pi4
[all]

With the standard SD clock speed a micro SD card in the MMC HAT (/dev/mmcblk2) performs at similar speeds to the onboard micro SD card (/dev/mmcblk0) on Pi modules up to Pi 3B+ (it's slower than the newer SD controller on the Pi4).
The standard MMC HAT package contains:
1x MMC HAT PCB**
4x 12mm M2.5 standoff
8x 6mm M2.5 screw
4x stick on foot