Commander
Handheld button and LED board with CircuitPython support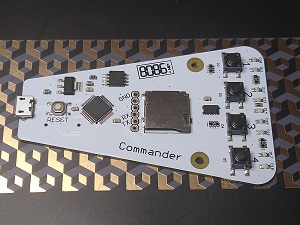 The Commander is a handheld button and LED board with accelerometer and micro SD slot which support CircuitPython.
Features
4 Tactile buttons
9 LED (red and amber LED per button and an blue LED between button 2/3)
Accelerometer (ADXL345)
Micro SD slot
Atmel SAMD21G18A based with native USB
Preloaded with USB Mass Storage bootloader (uf2-samdx1) and CircuitPython
You can get your hands on a Commander from our Tindie store or build your own using the source files below.
Commander Design Files
Pinout
CircuitPython
SAMD21G18A
Usage
D0(RX)
PA11
UART RX
D1(TX)
PA10
UART TX
D2(B1)
PA20
Button 1
D3(B2)
PA09
Button 2
D4(B3)
PB09
Button 3
D5(B4)
PA02
Button 4
D6(CS)
PA13
Micro SD(CS)
D7(MOSI)
PB10
Micro SD(MOSI)
D8(SCK)
PB11
Micro SD(SCK)
D9(MISO)
PA12
Micro SD(MISO)
D10(LED1A)
PA15
Button 1 LED A
D11(LED1B)
PA14
Button 1 LED B
D12(LED2A)
PA08
Button 2 LED A
D13(LED2B)
PA07
Button 2 LED B
D14(ALERT)
PA06
Alert LED A
D15(LED3A)
PA05
Button 3 LED A
D16(LED3B)
PA04
Button 3 LED B
D17(LED4A)
PB02
Button 4 LED A
D18(LED4B)
PB03
Button 4 LED B
D19(SCL)
PA15
Accelerometer SCL
D20(SDA)
PA22
Accelerometer SDA
Either of the CircuitPython names can be used (D18 or LED4B for example).
Usage
You will find a few basic examples below on how to use the features of the Commander.
Buttons
Coming soon
LED
Coming soon
Micro SD
Coming soon
Accelerometer
Coming soon
UART (Serial)
Coming soon